Inciting public violence and disturbing the peace
By ITV News UK and BBC
At the time of reporting: Pastor Evan Mawarire been charged today with inciting public violence. His #ThisFlag Twitter campaign feed and the state-run Herald newspaper tweeted that Mawarire was also being charged with disturbing the peace in his country, Zimbabwe.
Activists organised a "stay-at-home" protest last week and planned similar shutdowns this week. Protests have mostly been organised on social media, and WhatsApp using #ThisFlag.
The scene outside Rotten Row in Harare, where Pastor Mawarire has been charged with "Inciting public violence and disturbing the peace"
Zimbabwe's economic crisis has worsened recently, leading to a chronic cash shortage and delays paying civil servants. Pastor Mawarire was summoned for questioning by police ahead of a two-day "stay-at-home" protest called for Wednesday and Thursday. A collection of citizenry on multi-media and activists are behind the messages being circulated on mobile phones, whatsapp and twitter.
Several hours after he reported to the Criminal Investigation Department (CID) on Tuesday, the #ThisFlag Twitter account posted: "Pastor Evan Mawarire is being charged with section 36 for inciting public violence and disturbing peace."
It included a video in which the preacher says: "You are watching this video because I have either been arrested or have been abducted. It's a video we had pre-recorded for a day like this one."
Zimbabwe's government has warned protesters they will face the "full wrath of the law" if they continue with the biggest demonstrations in a decade against President Robert Mugabe, which have been encouraged by a preacher.
Baptist pastor Evan Mawarire has now been arrested by the Zimbabwean authorities, but he told ITV News before his arrest that his generation is "no longer afraid" of repression, and "enough is enough".
Mawarire became a household name in Zimbabwe after he started a social media campaign in April that has tapped into mounting public anger over corrupt ion, high unemployment and economic woes.
"I have been able to hear from so many people and the general sentiment is that it's time that he (Mugabe) retires," Mawarire told ITV News.
In a video recorded before his arrest on Tuesday, Evan Mawarire urged supporters to go ahead with further 'stay at home' demonstrations. He had called for a one-day protest last week which closed businesses across the southern African nation in the biggest strike since 2005.
Mugabe, 92, has led the former British colony since independence in 1980. Since then it has gone from being one of the continent's most promising economies to being a country mired in economic crisis with a reputation for rights abuses.
A copy of a search warrant seen by Reuters said police believed Mawarire was in possession of a stolen police helmet, baton stick and "other subversive material" that could be used to incite public violence.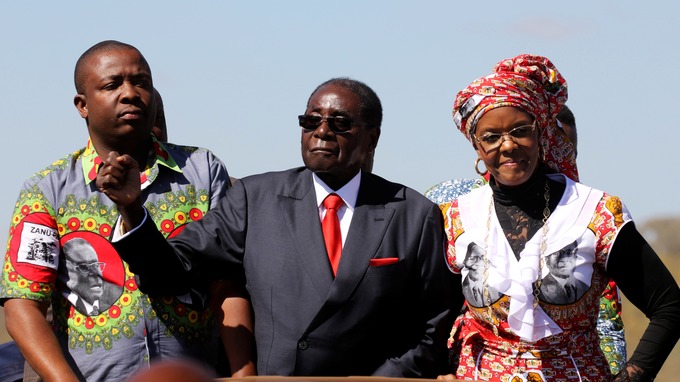 The law under which the 39-year-old pastor has been detained carries a prison sentence of up to 10 years. According to Zimbabwean law, he must appear in court within 48 hours.
The Home Affairs Minister Ignatius Chombo told reporters: "The police whose mandate is to protect life and property will be out in full force to deal with any disturbances that may arise."
"Let me warn the instigators behind the intended protests that they will face the full wrath of the law," added Chombo, who was flanked by the ministers of defence and state security.
Chombo said there were no plans to deploy the military.