Staff Reporters
Outrage is growing over the treatment of former Springbok coach and his players in Tunisia, who (were) or are 'homeless' due to 'disgusting' travel arrangements, official bungling and shameful accommodation treatment.
Newspapers are reporting that former Springbok coach Peter de Villiers has seen some strange things in rugby' but the sight of his team sleeping on the streets of a foreign city is a new one.
Peter De Villiers slept outside
De Villiers and his Zimbabwe rugby side are now reportedly settled in a hotel, but it is the pictures of them living like homeless people in Tunisia that has made the headlines.
The 58-year-old coach and his players spent the night on the streets in Tunisia, where the "Sables" – as Zimbabwe's national rugby side is known – are due to play the hosts this weekend as part of World Cup qualifying.
Shocking pictures of the players lying on sidewalks with their baggage emerged on this week in a Facebook post by David Coltart, a former Zimbabwe Minister of Sport.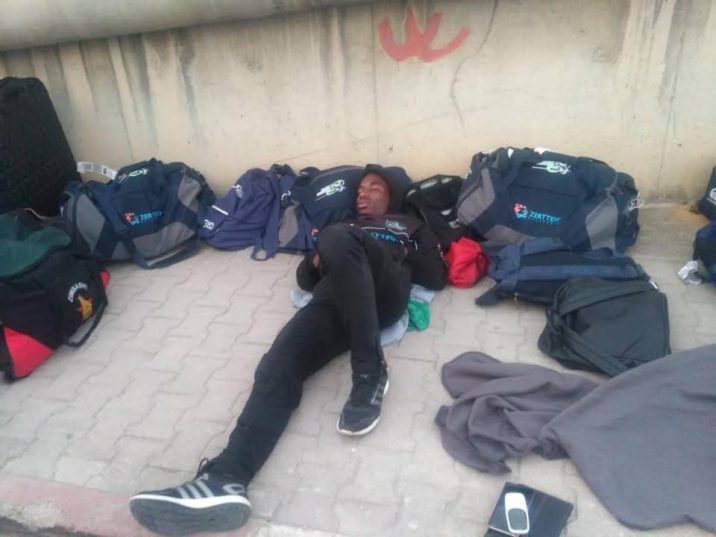 Meantime Divvy and co's hosts accuse the whole delegation of 'anti-sports' and 'unethical' behaviour in the visa and street-sleeping drama.
The Tunisian Rugby Union (TRU) have said a lack of visa compliance was the reason behind the Zimbabwe Rugby team being held at the airport in Tunis on Monday.
"It is important to note that the delegation of Zimbabwe started complaining as soon as they arrived on the 2nd of July 2018 at 12.00 noon at the Tunis Carthage airport," said TRU in a statement.
"Indeed, the head of the delegation refused to pay the entry visa fees on Tunisian territories (60 dinars per person) explaining that he did not have the amount requested knowing that the Tunisian union had previously informed Rugby Africa by mail on the 8th of June 2018, informing them on all these procedures that go beyond the prerogatives of the union.
"Nevertheless, the head of the delegation persisted in not paying these fees, which caused a long delay for the members of the delegation and a four-hours delay. We had to contact CEO of Rugby Africa who spoke on the phone with the head of the delegation of Zimbabwe who subsequently agreed to pay the invoice of the visa fees. It is important to note that these visa procedures are common between African countries."
David Coltart
The TRU made the statement in response to the harsh words from former Zimbabwean sports minister Coltart.
"Our national rugby team the Sables are being treated in the most  appalling way in Tunisia. They have been forced to sleep on the streets as the accommodation they were provided with is disgusting," Coltart said in a Tuesday morning Facebook post.
TRU said the hotel the team eventually settled in was approved by government.
"The Hotel Aladino was chosen as the accommodation for the Zimbabwean team. The hotel is close to the stadium where the match will take place and meets the requirements (a two-star hotel as approved by the Ministry of Tourism)."
"The Tunisian Rugby Union expresses its deep regret for this unfortunate event and strongly deplores the anti-sports and unethical actions of the Zimbabwean delegation which do not reflect the strong ties of friendship between the two countries." – Additional Reporting: The Citizen
Comment on this report: Call/text/whatsapp: (+27) 834767918